Showing 1 - 2 of 2 > Page 1 of 1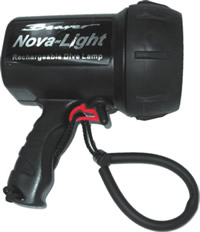 Nova-Light Rechargeable Dive Lamp - HS CODE - 8513100000 C.O.O. - TW
Traditional and proven with the test of time, ultra bright 20 Watt, 8 degree beam, 200 lumen rechargeable dive lamp provides a clean and crisp beam of light in the darkest ocean conditions. Manufactured with a protective abrasion resistant front cover to guard against knocks and assist in providing reliable service for many years. Perfect as a main dive torch as the impressive 66 minute burn time paired with the comfortable hand grip help the Nova-Light out shine many similar models. An optional 10 watt bulb is included which doubles the burn time if desired and strong comfortable wrist lanyard, charger and European mains adaptor complete the package. Waterproof to 100 metres.
Product Code(s):
LT NOV
RRP: £49.50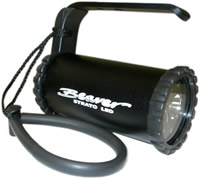 Strato 450 Lumens LED Lamp - HS CODE - 8513100000 C.O.O. - TW
Ultra bright low power consumption,3 Watt LED lamp in a black anodised aluminium with aluminium handle and comfort wrist lanyard. Takes 6 standard (included), or rechargeable, AA size batteries, available from almost anywhere. Lightweight and tough this lamp represents great performance at a great price.2.5 hour burn time. Waterproof to 100 metres. COLOUR: BLACK.
Product Code(s):
LT STR
RRP: £135.00
Showing 1 - 2 of 2 > Page 1 of 1